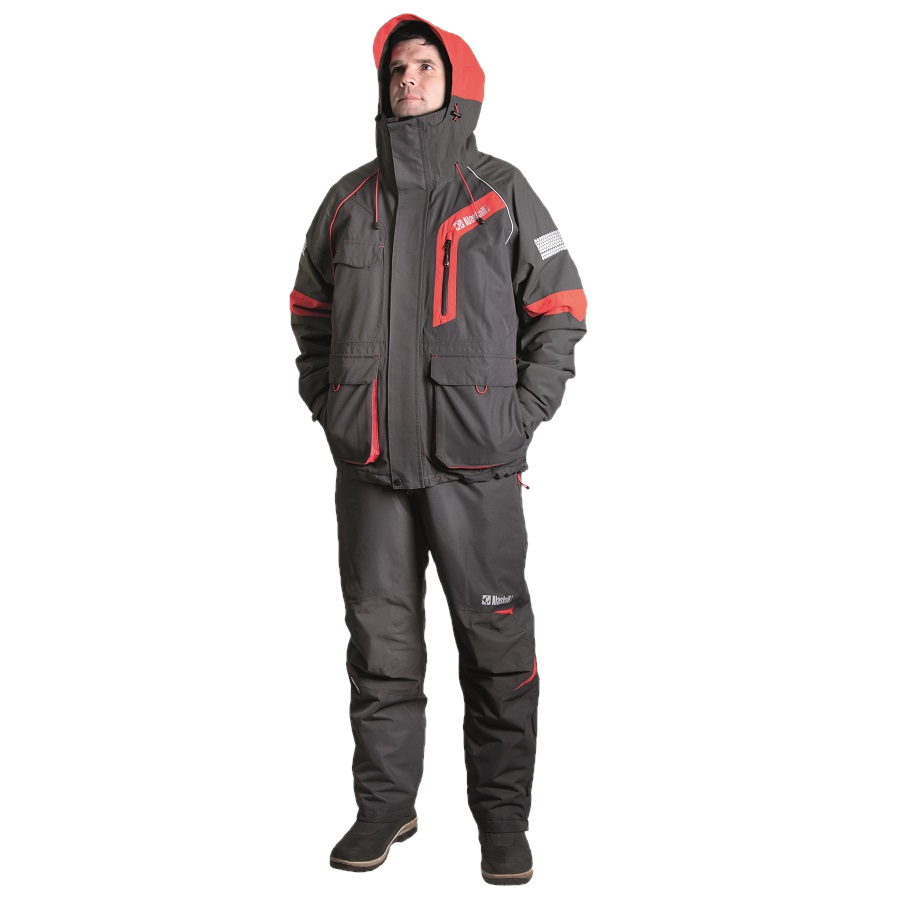 Rudder Hunter boat suit
Waterproof 12000
Breathable 8000
The Rudder Hunter suit is a novelty for the spring-summer 2021 season. This is a modern split boat suit made of durable non-rustling fabric. The jacket is equipped with a large number of convenient and functional pockets: two big double pockets with magnetic fasteners in the front, chest pocket with a splash-proof zipper on the left, pocket with a magnetic flap on the right, and patch pocket with a large reflective logo on the back. A high storm collar with fleece lining and deep adjustable hood with a visor reliably protect the face and neck from cold and wind.
The combined lining of the jacket (fleece and polyester) has mesh inserts to ventilate the inner surface of the fabric. The sleeves are equipped with special ventilation slots. The jacket's lining has a leakproof pocket for documents and two patch pockets for accessories. The bib with a high back and chest part has an adjustable waist and two half rings, two pockets for hands, two little pockets on the chest part and a zippered pocket for keys inside. The back double part of the bib has no middle seam and is equipped with a waterproof foam part. The bottom of the trouser legs is adjustable with zippers and Velcro patches.
Set:
• jacket
• bib
Jacket:
• anatomical cut of the sleeve with a neoprene cuff inside;
• functional adjustable hood has a visor;
• a central plank that prevents wind and moisture from getting inside;
• two double pockets with magnetic fasteners on the sides;
• splash-proof zippered pocket for gadgets;
• pocket with a magnet flap;
• leakproof pocket for documents;
• two patch pockets;
• large patch pocket with a logo on the jacket back;
• combined lining;
• adjustment of the bottom of the jacket;
• reflective elements on the chest, sleeves and back.
Bib:
• two pockets with splash-proof zippers;
• side pockets for hands;
• inner zippered pocket for keys;
• ergonomic knee parts;
• durable seamless back with foam insert;
• adjustment along the waist line;
• two half rings;
• high back with fleece lining;
• central two-lock zipper, covered with a windproof pad;
• side zippers and stitches for adjusting the width of the bottom of the trouser legs;
• elastic shoulder straps with logo for quick fit;
• reflective logo
Доступные размеры:
S

Chest, cm

Neck volume, cm

Slee

ve length, cm

| | | |
| --- | --- | --- |
| 91.5 - 96.5 | 37 – 38 | 84 – 86.5 |

M

Chest, cm

Neck volume, cm
Slee

ve length, cm

| | | |
| --- | --- | --- |
| 99 – 104 | 39 – 41 | 86.5 – 89 |

L

Chest, cm

Neck volume, cm
Slee

ve length, cm

| | | |
| --- | --- | --- |
| 107 – 114 | 42 – 43 | 89 – 91.5 |

XL

Chest, cm

Neck volume, cm
Slee

ve length, cm

| | | |
| --- | --- | --- |
| 117 – 122 | 44.5 – 46 | 91.5 – 94 |

2XL

Chest, cm

Neck volume, cm
Slee

ve length, cm

| | | |
| --- | --- | --- |
| 124.5 – 129.5 | 47 – 48 | 94 – 96.5 |

3XL

Chest, cm

Neck volume, cm
Slee

ve length, cm

| | | |
| --- | --- | --- |
| 131 – 134 | 48 – 50 | 96.5 – 99 |