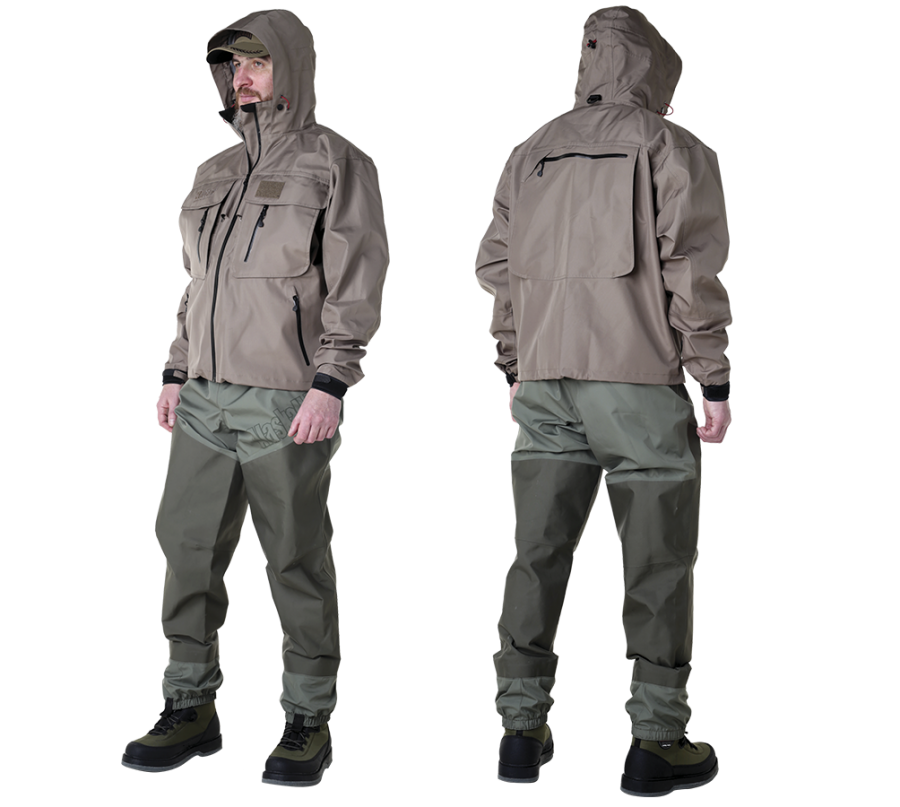 ADVENTURE WADE JACKET
Sand
AAWJ…(Instead of points insert the desired size)
Technologies:
AERO-TEX,
EDS-Ever Dry System,
Antistress Construction
One of the most popular models in the line of wading jackets. Alaskan Adventure is designed by professional anglers. The comfortable and durable model has anatomical cut that provides freedom of movement and attractive appearance. The jacket is made of effective and durable three-layer modern AERO-TEX membrane fabric. It meets all the latest anglers' requirements.
Characteristics:
• Water-resistance - 28000 mm (H2O);
• Breathability - 12000 gr / m2 / 24h;
• AERO-TEX 3-layer membrane;
• YKK splash-proof zippers with thermal lamination;
• Convenient adjustment of the hood in height and volume;
• Special waterproof adjustable cuff design;
• Lots of functional pockets;
• Velcro fastener on the chest pocket flap;
• Built-in retrievers in the chest part;
• Large chest pockets with quick-drying fleece lining can also be used for hand warming;
• Additional side pockets with splash-proof zippers for "little things";
• Capacious airproof pocket on the back;
• Inner waterproof pocket for keys or documents;
• Half ring on the back of the jacket for attaching the landing net;
• Inner fleece collar.
Доступные размеры:
S

Chest, cm

Neck volume, cm

Slee

ve length, cm

| | | |
| --- | --- | --- |
| 91.5 - 96.5 | 37 – 38 | 84 – 86.5 |

M

Chest, cm

Neck volume, cm
Slee

ve length, cm

| | | |
| --- | --- | --- |
| 99 – 104 | 39 – 41 | 86.5 – 89 |

L

Chest, cm

Neck volume, cm
Slee

ve length, cm

| | | |
| --- | --- | --- |
| 107 – 114 | 42 – 43 | 89 – 91.5 |

XL

Chest, cm

Neck volume, cm
Slee

ve length, cm

| | | |
| --- | --- | --- |
| 117 – 122 | 44.5 – 46 | 91.5 – 94 |

2XL

Chest, cm

Neck volume, cm
Slee

ve length, cm

| | | |
| --- | --- | --- |
| 124.5 – 129.5 | 47 – 48 | 94 – 96.5 |

3XL

Chest, cm

Neck volume, cm
Slee

ve length, cm

| | | |
| --- | --- | --- |
| 131 – 134 | 48 – 50 | 96.5 – 99 |