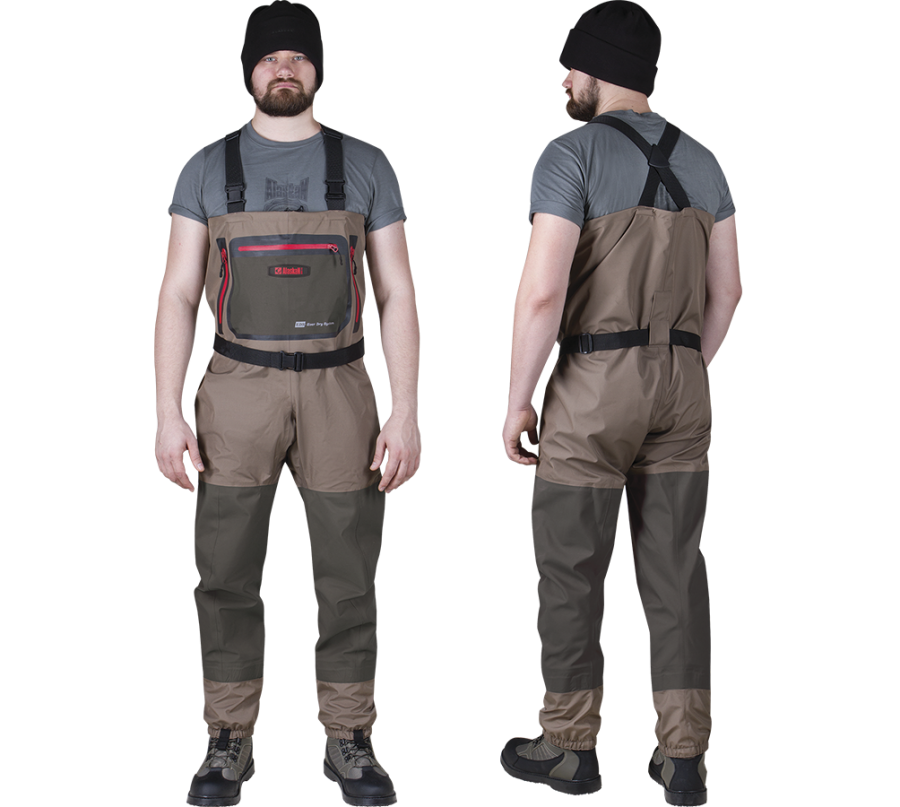 Adventure Waders
Sand / Khaki
ASWAKH…(instead of points insert the desired size)
AERO-TEX,
EDS-Ever Dry System,
Right Seam Technology
Classic waders Adventure with an anatomical cut received an updated technological design this season. The breast patch pocket was replaced with a large glued pocket, and two side pockets with a waterproof zipper were added. Elastic straps were equipped with flat buckles. For the upper part of waders a 3-layer membrane AERO-TEX is used, and 5-layer membrane is used for pants.
Characteristics:
Water-resistance - 28000 mm (H₂O);
Breathability - 12000 gr / m2 / 24h;
Combination of 3-layer and 5-layer AERO-TEX material;
Socks are made of 4 mm neoprene and cut to the right and left feet;
Includes adjustable belt;
Built-in cuffs (guards);
YKK zipper fasteners;
A variety of functional pockets;
A convenient transport bag is included;
Adjustable X-shaped straps.
Доступные размеры:
MS
Short (low growth)

| | | |
| --- | --- | --- |
| Chest, cm | Length of the leg seam, cm | Sock size Russia / USA |

LS
Short (low growth)

| | | |
| --- | --- | --- |
| Chest, cm | Length of the leg seam, cm | Sock size Russia / USA |

XS
Regular (Standard body constitution)

| | | |
| --- | --- | --- |
| Chest, cm | Length of the leg seam, cm | Sock size Russia / USA |

S
Regular (Standard body constitution)

| | | |
| --- | --- | --- |
| Chest, cm | Length of the leg seam, cm | Sock size Russia / USA |

M
Regular (Standard body constitution)

| | | |
| --- | --- | --- |
| Chest, cm | Length of the leg seam, cm | Sock size Russia / USA |

L
Regular (Standard body constitution)

| | | |
| --- | --- | --- |
| Chest, cm | Length of the leg seam, cm | Sock size Russia / USA |

XL
Regular (Standard body constitution)

| | | |
| --- | --- | --- |
| Chest, cm | Length of the leg seam, cm | Sock size Russia / USA |

XXL
Regular (Standard body constitution)

| | | |
| --- | --- | --- |
| Chest, cm | Length of the leg seam, cm | Sock size Russia / USA |

XXXL
Regular (Standard body constitution)

| | | |
| --- | --- | --- |
| Chest, cm | Length of the leg seam, cm | Sock size Russia / USA |

MK
King (waders of increased volume)

| | | |
| --- | --- | --- |
| Chest, cm | Length of the leg seam, cm | Sock size Russia / USA |

LK
King (waders of increased volume)

| | | |
| --- | --- | --- |
| Chest, cm | Length of the leg seam, cm | Sock size Russia / USA |

XLK
King (waders of increased volume)

| | | |
| --- | --- | --- |
| Chest, cm | Length of the leg seam, cm | Sock size Russia / USA |