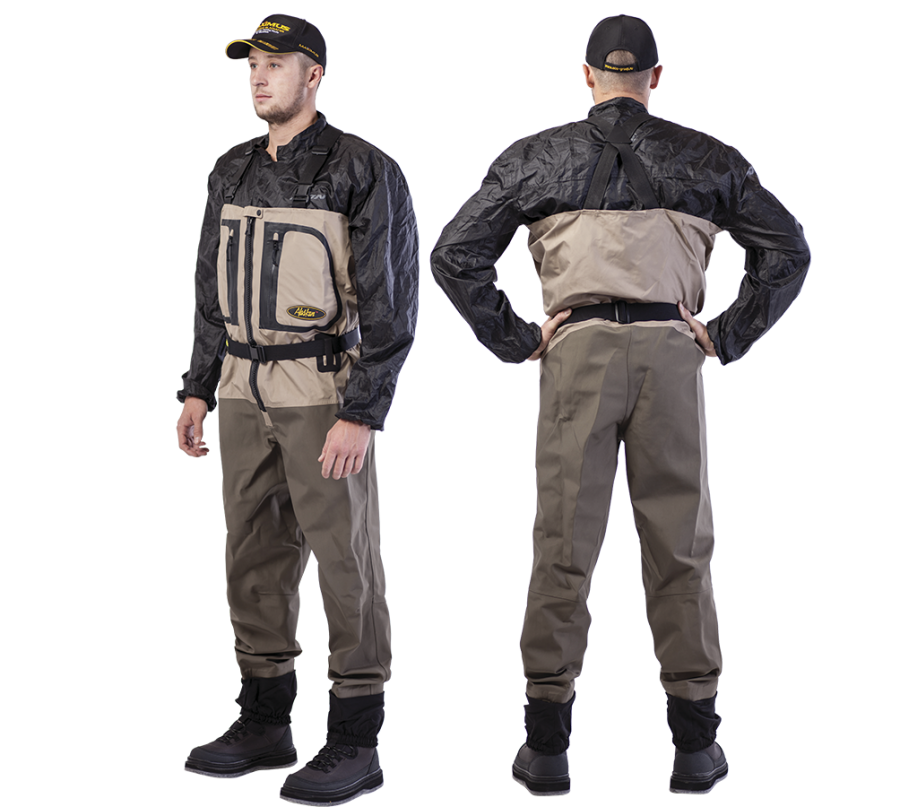 RIVER MASTER WADERS
Beige / Khaki
ARMW…(instead of points insert the desired size)
AERO-TEX,
EDS- Ever Dry System,
Right Seam Technology
RIRI-Zipper
This model is made of five- and three-layer materials AERO-TEX with increased breathing capacity (15000 gr / m2 / 24h). The upper part of the waders is made of a three-layer material, the trousers are reinforced with a five-layer membrane. The main advantage of the Alaskan River Master waders is the presence of a modern waterproof zipper RiRi, which makes it much easier to wear "fishing armor" and allows you to respond to the "call of nature" without delay. A comfortable anatomical cut allows you to feel comfortable in the process of fishing all day. The absence of leg seams on the trousers prevents premature wiping and allows you to serve waders much longer than standard models.
Characteristics:
Water-resistance - 30000 mm (H2O);
Breathability - 15000 gr / m2 / 24h
Combination of 3-and 5-layer membrane AERO-TEX;
Anatomic cut without leg seam;
Waterproof RiRi zip;
Socks are made of 4 mm neoprene and cut to the right and left feet;
Reinforced glueing of the seams on the socks with a special perforated tape;
Includes adjustable belt;
Built-in cuffs (guards);
YKK zipper fasteners;
A big quantity of functional pockets;
A convenient transport bag is included;
Adjustable X-shaped straps.
Доступные размеры:
LS
Short (low growth)

| | | |
| --- | --- | --- |
| Chest, cm | Length of the leg seam, cm | Sock size Russia / USA |

XS
Regular (Standard body constitution)

| | | |
| --- | --- | --- |
| Chest, cm | Length of the leg seam, cm | Sock size Russia / USA |

S
Regular (Standard body constitution)

| | | |
| --- | --- | --- |
| Chest, cm | Length of the leg seam, cm | Sock size Russia / USA |

M
Regular (Standard body constitution)

| | | |
| --- | --- | --- |
| Chest, cm | Length of the leg seam, cm | Sock size Russia / USA |

L
Regular (Standard body constitution)

| | | |
| --- | --- | --- |
| Chest, cm | Length of the leg seam, cm | Sock size Russia / USA |

XL
Regular (Standard body constitution)

| | | |
| --- | --- | --- |
| Chest, cm | Length of the leg seam, cm | Sock size Russia / USA |

XXL
Regular (Standard body constitution)

| | | |
| --- | --- | --- |
| Chest, cm | Length of the leg seam, cm | Sock size Russia / USA |