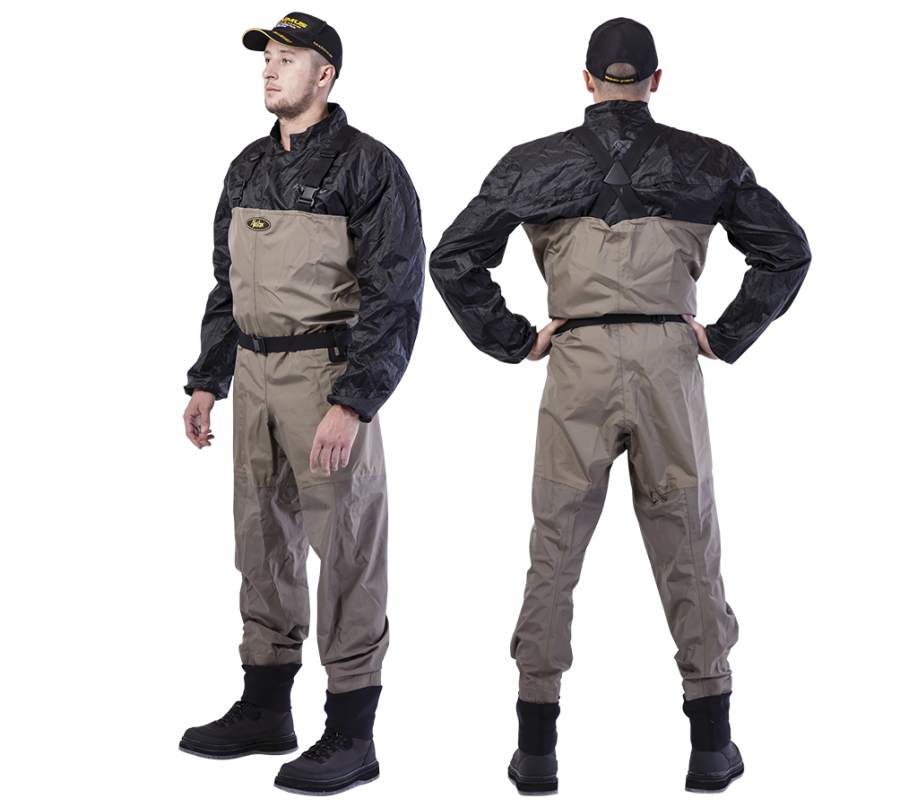 Storm Waders
Sand
ASW…(instead of points insert the desired size)
AERO-TEX,
EDS- Ever Dry System,
Right Seam Technology
TRAVEL Design
The lightweight model of waders Alaskan Storm will be a good choice for fans of long-distance transitions, when the maximum drainage of moisture and minimum weight are required. Lightweight functional waders are made of AERO-TEX 3-layer material. Bib-overall from this material will not only protect you from getting wet, but will also help save space in your bag. All functional parts are as easy to use as possible. The trouser leg are cut according to the principle of RIGHT SEAM TECHNOLOGY (there is no leg seam). Due to this, the waders are protected from rapid wiping and premature failure. The universal design of braces allows to use it as a belt.
Characteristics:
Water-resistance - 28000 mm (H2O);
Breathability - 12000 gr / m2 / 24h;
3-layer membrane AERO-TEX;
Anatomic cut without leg seam;
Socks are made of 4 mm neoprene and cut to the right and left feet;
Includes adjustable belt;
Built-in cuffs (guards);
Internal functional pocket;
A convenient transport bag is included;
Adjustable X-shaped straps.
Доступные размеры:
LS
Short (low growth)

| | | |
| --- | --- | --- |
| Chest, cm | Length of the leg seam, cm | Sock size Russia / USA |

XS
Regular (Standard body constitution)

| | | |
| --- | --- | --- |
| Chest, cm | Length of the leg seam, cm | Sock size Russia / USA |

S
Regular (Standard body constitution)

| | | |
| --- | --- | --- |
| Chest, cm | Length of the leg seam, cm | Sock size Russia / USA |

M
Regular (Standard body constitution)

| | | |
| --- | --- | --- |
| Chest, cm | Length of the leg seam, cm | Sock size Russia / USA |

L
Regular (Standard body constitution)

| | | |
| --- | --- | --- |
| Chest, cm | Length of the leg seam, cm | Sock size Russia / USA |

XL
Regular (Standard body constitution)

| | | |
| --- | --- | --- |
| Chest, cm | Length of the leg seam, cm | Sock size Russia / USA |

XXL
Regular (Standard body constitution)

| | | |
| --- | --- | --- |
| Chest, cm | Length of the leg seam, cm | Sock size Russia / USA |

MK
King (waders of increased volume)

| | | |
| --- | --- | --- |
| Chest, cm | Length of the leg seam, cm | Sock size Russia / USA |

LK
King (waders of increased volume)

| | | |
| --- | --- | --- |
| Chest, cm | Length of the leg seam, cm | Sock size Russia / USA |