Thermal Underwear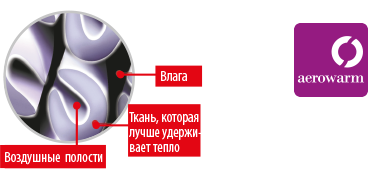 AEROWARM fibers have a hollow structure. Due to this, air cavities which accumulate heat are formed in the fabric. The fabric of such fibers is light and nice on the touch. AEROWARM differs from the fibers of other brands in that it has the ability to quickly absorb moisture and quickly dry out, forming a comfortable microclimate. This is especially important in the cold season. AEROWARM fibers are used in the manufacture of sportswear and outwear, due to its resistance to sunlight and washing.
Competitive advantages:
Excellent thermal isolation
A light weight
Phenomenal function of absorption and removal of moisture from the body (in 0.5 seconds)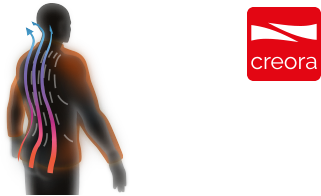 CREORA fibers are developed by the Korean company Hyosung, which is a supplier of elastic fibers. These fibers have a phenomenal characteristic of extensibility up to 1200%. Another important function of CREORA fibers is to give the fabric a feeling of comfort and softness. Thanks to the microporous structure, the excess heat in the form of steam is quickly diverted from the body, evenly distributed in the form of moisture on the surface of the thermal underwear for further evaporation.
Fibers are used to create sportswear and underwear.
Competitive advantages:
High degree of extensibility
Hygroscopicity
High resistance to chlorine

PolarFleece – is a synthetic pile fabric made up of the finest polyester fibers. These fibers form a surface, which determines the unique insulation characteristics. Products made of this material are light, durable and perfectly keep the heat due to the large amount of air contained in the so-called "air chambers". PolarFleece is a high-tech material that has undergone a special antibacterial and anti-pilling treatment. PolarFleece fabric is used for tailoring sportswear, clothing for tourism, etc.
Competitive advantages:
Hypoallergenic and antibacterial
Breathability
Thermoregulation
low specific gravity
good moisture retention

Thermaltech – Thermaltech fibers has been used for several years for creation of high-tech fabrics used in the manufacture of clothes for sports and outdoor activities. Its excellent properties are appreciated by many manufacturers.
Basic properties:
The material excellently removes moisture from the body and keeps the skin dry
Even after intensive work, the material is dry and nice on the touch
High compressibility of products from Thermaltech keeps the muscles "in a tonus", and also protects the joints from damage
The products have a low weight, great elasticity and keep a comfortable temperature balance